The energy in the city during Fashion Week is like no other; New York is buzzing with fresh ideas, pretty dresses, air kisses — and more than a few glasses of champagne.
Seriously though, it's an incredibly inspiring time to get to see so many talented designers' hard work in person.
Now, don't get me wrong - I love a major Marc Jacobs moment as much as the next fashion girl but my favorite part of the week has always been attending the presentations of the independent design houses. Their passion for their craft, fresh vision and drive to succeed is on another level and I'm always so excited to see them succeed!
I had the opportunity to attend more than a few super inspiring presentations of some of these indie labels and I can't wait to share with you what I saw.
Cuba is having a major moment in the zeitgeist. Restaurants, cocktail lounges and fashion designers are all about referencing the old world in a fresh way this year and the Hanley Spring-Summer 2016 collection is no exception.
Inspired by Creative Director Nicole Hanley Mellon's recent trip to Havana and discovery of artist Enrique Rottenberg's photographs, this collection has captured both the vibrancy and decay of the storied city in a completely modern way.
Especially innovative is the original print on this long vest and short shorts, meant to mimic the colorful murals that have been dirtied and stripped from years of weathering the elements. At Hanley though, the "dirt" is actually a metallic overlay that gives just the right amount of edge and interest to the striped print beneath it.
This is the uniform of the effortlessly cool girl. The collection, meant to be mixed and matched to create a complete wardrobe, is a study in proportion, texture and color. With trapeze tops and peplum skirts, head scarves and vests - relaxed and casual but with a polish.
Now all I want to do is sit in on a Havana patio in a lace-up blouse sipping a mojito in the sun.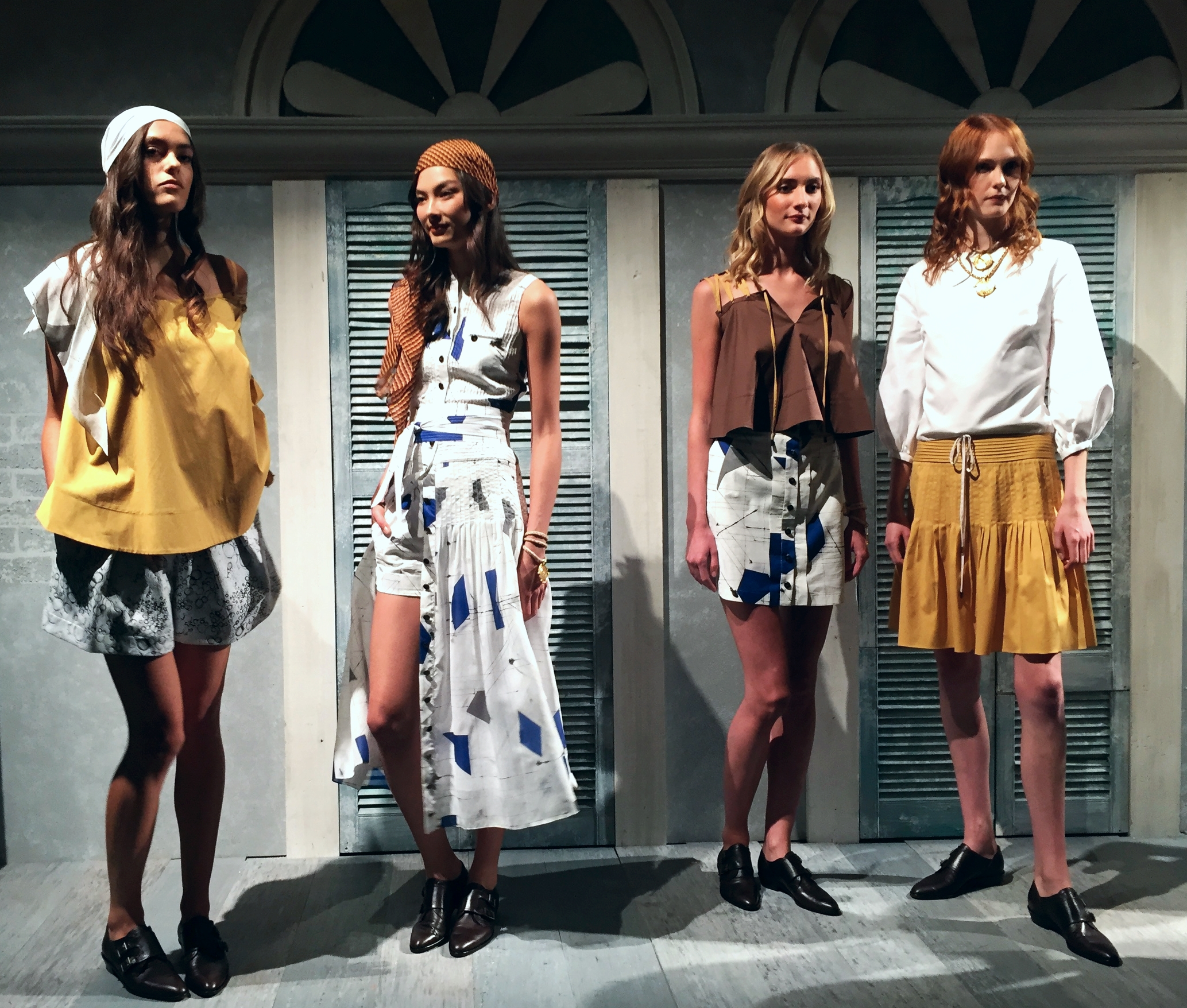 The two incredible women behind M. Martin, Alex Gilbert and Jennifer Noyes, are the living embodiment of their brand. Simple, elegant and feminine, the pair have created a collection of super wearable, incredibly chic separates that are as at home at an Upper East Side dinner party as they are in a Brooklyn preschool drop-off line.
With a tightly controlled neutral color palette with just the right pop of red, the collection is refined in this completely relaxed way that doesn't take itself too seriously. There's a modern 70's vibe to the collection - equal parts Annie Hall and Jerry Hall so that you can really play with the styling of the individual pieces to suit your own lifestyle and personality.
When the Princess of Saudi Arabia attends your NYFW presentation, you know you've got a collection with a commanding spirit. The Spring-Summer 2016 presentation from Carlos Polite is a truly sublime collection with artistic tailoring in class with an early McQueen or John Galliano - really!
He mixes textures and fabrics to sculpt innovative silhouettes. There's an edge balanced with delicate femininity to his designs; leather harnesses and studded chokers are paired with muted prints and drape-y silhouettes for a completely modern look.
The chartreuse bird-print fabric was the stand-out star of the show. From a full pants/shirt/trench combination to a weird and wonderful crop top/over skirt pairing, there's a real sense of playfulness and delight in materials with Polite's designs. I'd love to see someone like Kiernan Shipka rocking a Polite piece on a red carpet sometime soon; it's a collection perfect for Hollywood's young, risk-taking set.
When you're engaged to David Copperfield, it's a prerequisite that you have a flair for the dramatic, right? When I walked in to the magicians four-story penthouse apartment to see a private showing of a short film featuring Chloe Gosselin's F/W 15 shoe collection, I was met with vintage carnival games and rides - spooky meets chic - all blended together with some of New York's most fabulous fashionistas. It was a fun, unexpected break from the usual NYFW madness!
The next day I saw the full presentation of her most current collection, which was inspired by both the Nevada desert and China's Rainbow Mountains - in other words, it was a mystical, stiletto-ed romp through the natural world. The combination of two distinctly different landscapes resulted in a neutral, earthy color palette with sudden bursts of color sprinkled throughout. Gosselin incorporated lace-up details, rounded toes, colored metallics and sky-high heights to pay service to the magical environments that so inspired her designs.
I had the honor of attending the Fashion Guerrilla showcase, presented by the Fashion Farm Foundation. The Foundation is a non-profit meant to foster collaboration and synergy between Hong Kong designers, retailers, and traders and develop their educational, cultural and business outreach in the city and beyond. The group puts on fashion shows like the one I attended to raise awareness and funds for their mission.
This show featured four rising star designers fresh from Hong Kong - Injury, Daydream Nation, Placed by Gideon and Methodology - couldn't be more different from one another!
While Placed by Gideon was mostly casual, urban separates for men (lots of perfectly tailored blazers paired with perfectly rumpled t-shirts), Methodology was an edgy, modern collection of mesh cut-outs, lace detailing and a-line dresses. Daydream Nation was super playful with lots of dramatic head wear, layers, uber-feminine prints and colors. Injury came out with both mens and womenswear, super minimalist with geometric shapes and patterns in a stark black, white and red color palette.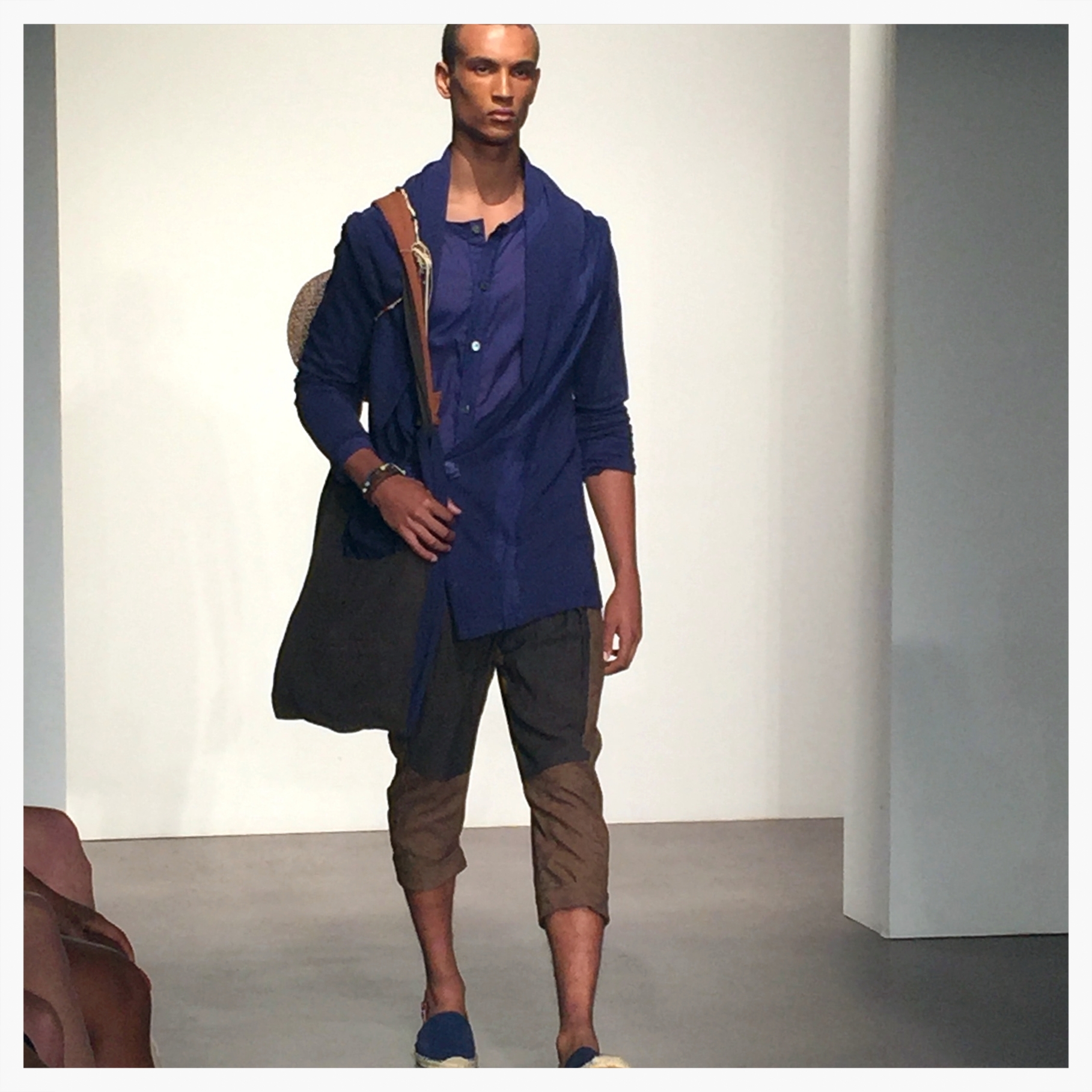 Ok, so I guess can't only talk about the indie showrooms and events I attended! I have to mention too that I had so much fun at the Macy's party, celebrating 30 years of INC with host Heidi Klum at the IAC building in New York.