There's New York, Milan, Paris, London - but Kuwait? As of last month, with the inauguration of Kuwait Fashion Week, the answer is a resounding yes. We spent three days in the glamorous city, attending events, sitting at fashion shows, meeting designers and completely immersing herself in the burgeoning Kuwaiti fashion culture. Under the Patronage of Sheikha Bashayer Nayef Jaber Al-Sabah and in conjunction with Merrill Lynch International, the event took place over the course of a few days at the super luxe Symphony Style Hotel. Fashion consultant Rabab Hamadi undertook the incredibly daunting task of organizing the event and did so flawlessly.
Our Editor-in-Chief Anna Maira Sandegren was so impressed with how much effort, attention and care was put into every event she attended; everyone she spoke to was so gracious and accommodating and each event was fun and full of amazing talent- a total treat from start to finish. Plus, the roster of international media who attended really showed how serious the industry is about Kuwait throwing their (stylish) hat into the (fashion) ring.
We were especially taken with the wedding dresses of Anfal Al Saleh. With beadwork, tailoring and inspired designs that look like they walked right out of a storied Parisian Couturier, Al Saleh's designs were sublime. The beaded tent dress with long lace sleeves is such a modern, fresh take on a traditional wedding look; add to it that incredible gold halo and there's a newly engaged Manhattan fashion girl who's just died and gone to fashion heaven. "Heaven" is apt here, actually, as Al Saleh's designs are truly heavenly.
Honestly, all the designers were so talented. Participating designers include: Gossaci (Alaa Saad El-Deen), TM Fashion Group (Tareq Ediz), Atelier Lab, (Nizar Romani), Atelier Lioness (Elie Abou Mrad, Fadi Seklawi, Patrik Basil), Saied Qubaisi, Haya Al-Bughali, Anfal Al-Saleh and Safi Rabah (Juliette N White). Read our interview with Sari Rabah here.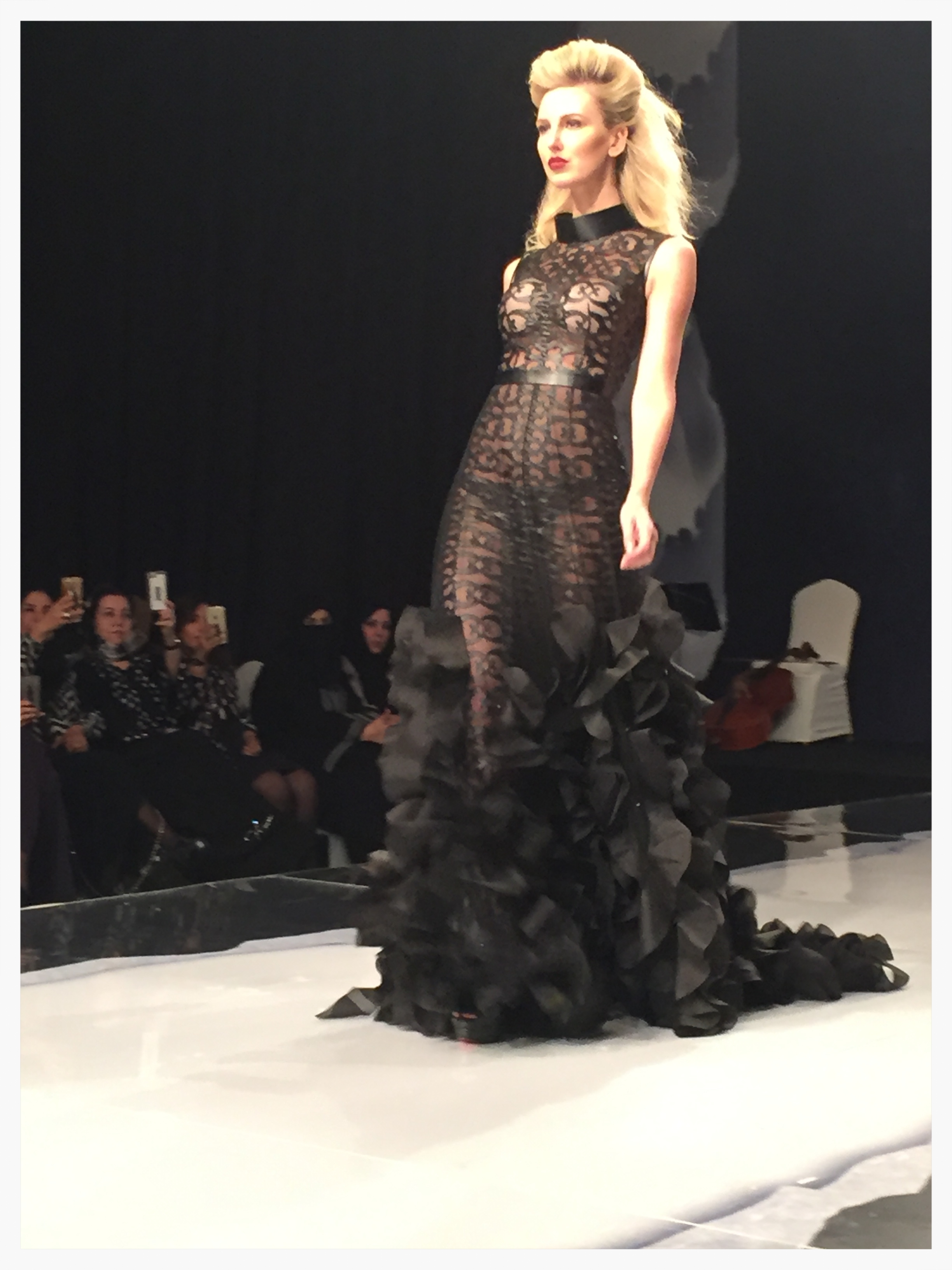 The beadwork and tailoring skill at this event was far beyond anything we had ever seen during any of our previous fashion week circuits. The Kuwaiti designers love detail and aren't afraid to take risks; more is more in their book and they don't shy away from sparkle, glamour, or sexiness. Kuwaiti designed dresses are destined for the shores of South Beach, red carpets of Los Angeles and dance clubs of Latin America.
Images by Anna Maria Sandegren
Guests of honor included Sheikha Bashayer Nayef Jaber Al-Sabah, actress Elham Al Fadeala, and owner of Jumeriah Hotels Kuwait, Khawla Moubarak Al-Hasawi.

It really was a prestigious event with so many international and local tastemakers, royalty, celebrities and fashion icons attending. Even Chatarina Törnquist, stylist for Her Majesty Crown Princess Victoria of Sweden attended the events.
Perhaps somewhat surprisingly, the general fashion vibe in Kuwait right now is an optimistic, free and spirited one. The fashion scene is full of entrepreneurs and women who love fashion and dress how they please. There's a real sense of possibility and joy in the air that was infectious and is so inspiring to watch unfold.