We took our weekly round up over the ocean and across the waves to Hawaii. See how we surfed, swam and made our way around the island.
Day ONE
From Cliff Tops to Coral Reefs
Aloha from Kahana Bay Beach Parks, a must for Hawaiian hiking with height and depth. Leis around our necks and the sand at our feet, we started our tropical rendezvous by venturing around the 5,300 acre park. With the sound of streaming waterfalls as our soundtrack, we soaked up the historical seascape known for its thriving fishing and taro fields.
Exploring can get tiring, so after our trek we doubled up for a much needed lunch. Our first stop–Crouching Tiger Restaurant–a familiar pit stop for some good ol' fashioned American cuisine paired with the exotic Hawaiian landscape.
For dessert– Mike's Kiawe Broiled Huli Huli Chicken. Who needs sweets when you can have shrimp and broiled chicken from an authentic island food truck.
The perfect refuel, we marched onward to Makapu'u Beach on the eastern end of O'ahu. A prominent light house and magnificent spectral views of the bird sanctuaries at Kaohikaipu Islands kept us more than entertained.
Cue 'The Little Mermaid' soundtrack. We dived under the waves at Hanauma Bay to explore the wide range of exotic marine life. Snorkeling is the tourist spot's major attraction and it's understandable why. The clear waters provide a-once-in-a-lifetime view of rare species of the seas, from coral reefs, turtles, angelfish and over 400 other types of fish. Snorkel in mouth and fins in place, the experience had me believing I was a mermaid, myself!
Novices, beware. Sandy Beach on the East Honolulu shore is the local's spot for body surfing and body boarding but the waves are no smooth ride. With a nickname like Break Neck Beach, you can figure out what we mean. If you're no expert, you can still enjoy a show. We sat down, scarfed down some seafood from Chow Down Shrimp Truck and watched the pros shred the waves.
Inspired by Sandy Beach, I decided to fulfill my own dream of riding the waves of the Aloha State–with some help, of course. Koko Marina has the perfect classes for beginners at Hawaiian Surf Adventures. Not to mention, the nearby beach isn't a tourist magnets, so you can struggle with standing on the board without the stage fright. And although I may not be ready for Break-Neck Beach, I did get to cross surfing off my bucket list.
Day FIVE
Slowing Down in Style
After playing Kelly Slater for a day, it was time to get back to relaxation. We made our way to Haleiwa's Laniakea Beach, also known as Turtle Beach. We basked in the sun with the Honu green turtles and even had some impromptu photo shoots. We ended the day with a 50-minute cruise down the highway to Waikiki's Beach House at the Moana. Elegant oceanfront dining with a sophisticated ambiance and vibrant island-inspired cuisine was the perfect nightcap to a soothing day.
One day before our departure, we scoped out the surf at professional hotspot, Sunset Beach. On the North Shore of Oahu, pros can find that epic big wave. The crescent waves hit their peak during the winter and are home to a plethora of national competitions. Most popular is the Vans Triple Crown.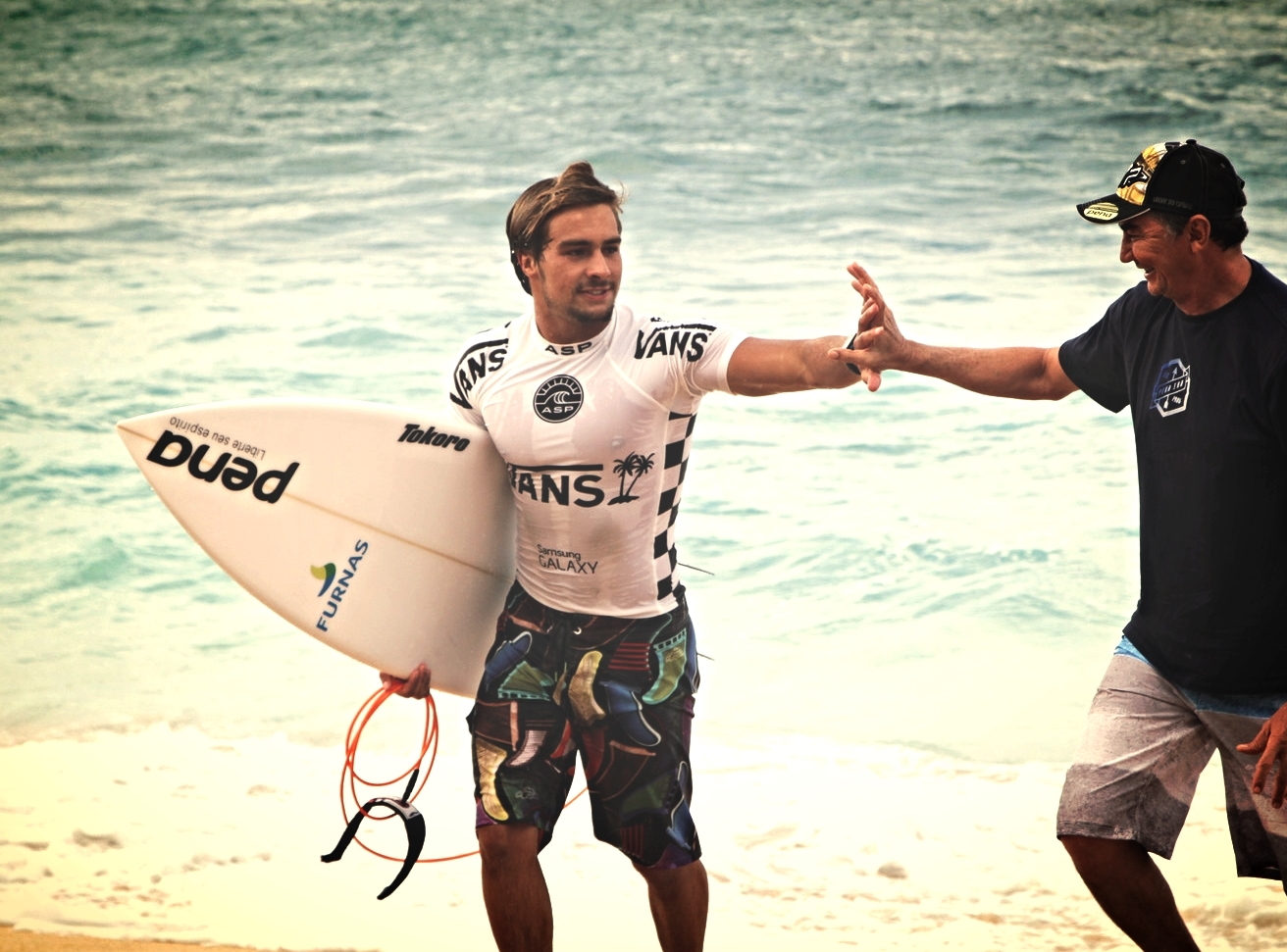 Here, we enjoyed some serious surf sessions and even had expert commentary from a local shop owner. From breastfeeding mothers to tatted up 75 year old couples, people from all over came together for free hot dogs, grilled corn and intense riders fearlessly ripping up the waves, making this experience a perfect score.
Day Seven
The Perfect Ending
Waterfalls, flowers, foodies, shopping and sharks–yes, sharks. We did it all on our last day on the islands. The waterfalls of Waimea Valley were a must, easy to get to and have a botanical garden that we of course hiked through. This full sensory experience showcases over 5,000 taxa from all over the world and 35 collections–our favorite was the hibiscus evolutionary garden. We treated ourselves to the sweetest fruit we've ever tasted from one of the many roadside stands after the twenty-minute hike.
In true Precious 7 style, we ventured into Waikiki in search of some off the grid boutiques. We veered away from Main Ave–you could find those stores lining any NYC street. Our standout selections were Peggy's Picks and MUSE by Rimo. You could find almost anything at Peggy's (located on Kapahulu Ave). The shop is filled with a unique of artifacts, jewelry, souvenirs, apparel, accessories and other funky tchotchkes. MUSE on Kuhio Ave carries well-designed and affordable gems for kids and resort-wear loving mothers. We were lucky enough to venture in after Black Friday and scored some stylish sets for under $50.
After getting our fashion fix it was time to satiate another desire–adrenaline. We headed to Shark Cove in Oahu, deemed one of the top 12 shore dives in the world. Hawaii Shark Encounters gave us an amazing tour and got us in the cage. Hearts pumping, we lowered into the shark-infested sea, which was something to add to your bucket list if you haven't done it already!